Today, when I went home from school, I saw a quite pretty girl in a nice outfit in the bus. But that's not the point. This girl was...I don't know...very addicted to her lipgloss. Every minute she put it out of her bag and greased tons of it onto her lips so that they looked very sticky and I just wondered if she had just very dry lips and this lipgloss was kind of a balm she had to use in winter or if she just thought that she looked beautiful with so much clear gloss on.

So I decided just to write down what I personally think are the
Do's
and
Don't
of (winters) Make-Up
(Disclaimer: This is not generalized: any "Do" also can also look ugly and any "Don't" fabulous)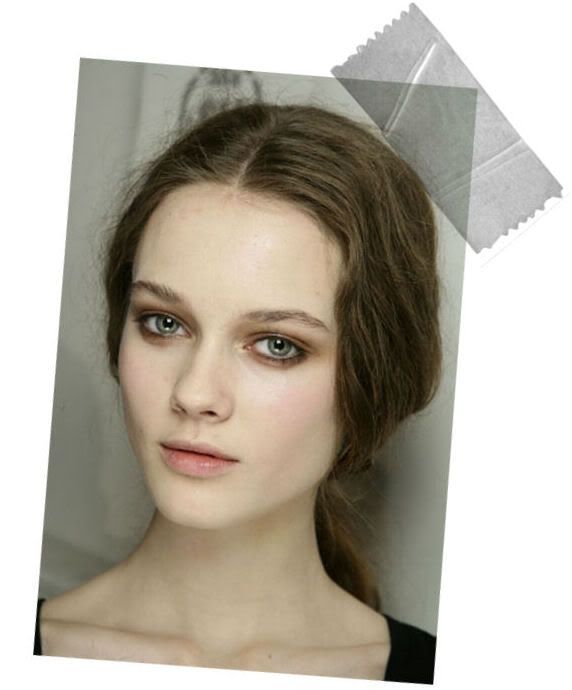 DO:

Use a bit of light pink lip stick and dab it with your fingers on your lips. Just on the middle and leave out all the sides. You can also use an orange shade. (like at Rag & Bone)
Curl your lashes. The effect is much bigger than you think, even if it looks a bit weird before you put mascara on.
Apply mascara only on the tips of your lashes. That's perfect for a day look.
Emphasize the eyes with eyeliner and leave the lips natural like at Louis Vuitton, Valentino and DKNY(2)
Red lips. If you're able to do the 'perfect red lip'- do it (like D&G)! But don't use a too dark shade and keep the eyes simple: Just use transparent mascara.
Use sun protection even in winter. There is sun, and this sun can damage your skin.
Paint your nails in a colour than matches your lip stick (like Pilotto). Also, a brown shade is very in at the moment (see Chanel)
Create your own eye shadow/eyeliner: mix mascara and eye cream until it becomes paste-like. It will look like the Eye shadow thing from MAC which you can use as eye liner (the application with a small brush is much easier than any other eyeliner) or as creamy base, which is good for night make-up or New Years eve. (Yep! I'm thinking of New Years Eve even if there's more than one month left!)
Use light brown eyeshadow! Did you notice that so many runway make-ups do include it?(Chloe, Gucci , Proenza Schouler (also above)...) I guess this will be very big soon!
DON'T:

Rouge. Just leave it. Due to cold your cheeks will be naturally soft pink and it will look very fake with rouge.
Cream foundation. In winter your skin is very dry so cream foundation will cause flaked skin.
Too much powder. A very matte teint looks unheathy, so it's okay to shine a bit. At the fashion shows they always use a special highliter on the cheekbones, so that they gleam, you can simply use a transparent lipbalm.
The lipgloss thing. It will not only dry out your lips but also look sticky. Better, you use lip balm. If you are really into lip gloss, though, you should make sure that a) the colour looks natural and b) you put the lipgloss ON your lips, not all over your mouth area.
(Brown eyeshadow, as mentioned above, is awesome) Against, brown eyeliner looks aweful- no matter which eye colour you have.
credits: tFS, Elle Girl (scans), for-the-love-of-beauty